2015 News & Member Information
Topics:
*  December – Christmas Greetings
*  December – Photos & News from the Ambrose 4's at Yering Meadows
on 7th  Dec.
*  November – Report on ESVGA Championship held at Box Hill on
Monday 9th Nov, 2015
*  November – Report from the 2015 Annual General Meeting of the ESVGA
*  October –      Notification of Annual General Meeting of the ESVGA
*  September – VVGA Teams Championship 2015 – Maffra

---
(Posted 23/12/2015)
Christmas Greetings #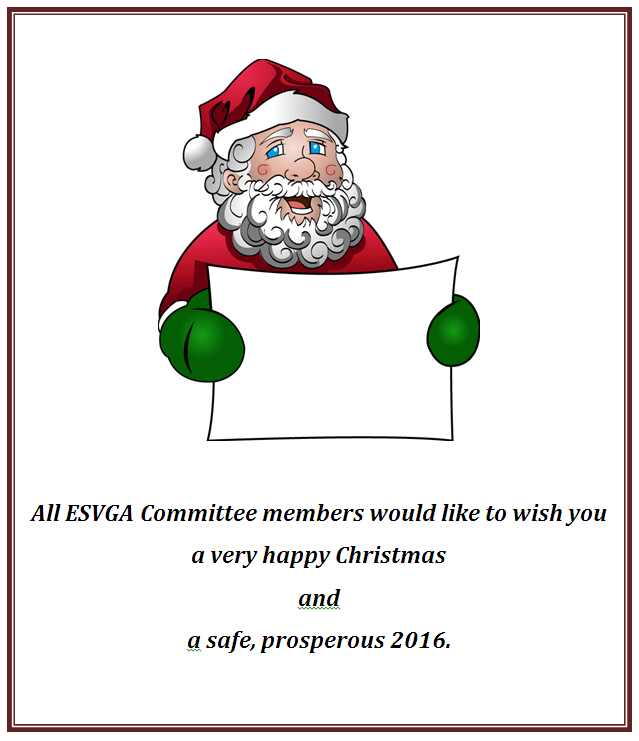 ---
(Posted 8/12/2015 & updated 18/12/2015)
Photos & News from the Ambrose 4's played at Yering Meadows on December 7th.#
99 players attended and the weather was generally quite kind considering forecasts. The course was in very good condition.
Results as you would have noticed ranged considerably. An excellent effort was achieved by our winning foursome of Alf Grundel, Neil Fletcher, Rob Ashton and John Whyte (Photo below).
Yering Meadows Golf Club was most accommodating with a prepared private room, excellent sandwiches and overall splendid service.
Charles Watt receiving his 25 year award was a highlight on the day and he continued by winning one of the meat trays. Congratulations Charles.           (We ensured that Paddy Leahy drew out both tickets to lessen the chance of him winning another meat tray…yet he was still only four or five off collecting again!!)
It was very pleasing to see that two guests on the day have decided to join ESVGA so we must be doing something right!!
President Dave Cockroft concluded by wishing all in attendance a safe and happy Christmas and looked forward to seeing them at Eastwood in January.
After the meeting, several members thanked the committee for their work during 2015…most gratifying which was much appreciated. Emails have been received indicating the same.
Neil Muller should be congratulated on the production and running of our association's website.
Feeling a little bored over the Christmas break? Have a quick flit through the 2016 VVGA Parmaker Fixture book and see how many printing mistakes were made in relation to our association !!
Barry Smith  for the ESVGA Committee
---
(Posted 12/11/2015)
Report on ESVGA Championship held at Box Hill on Monday 9th Nov, 2015 #
104 players competed in the Annual Championship held in fine but warming conditions. The course was in very good order. Apologies were received from several players, but it was disappointing that some players just didn't turn up, making changes at 8.25 am almost impossible. One group ended up with only two players.  We regret that we didn't remind players about using the bottom carpark as two members took nearly 10 minutes trying to get across Station Street from the top carpark.
Congratulations to all players who received acknowledgements. (See results section).
Tasty sandwiches and refreshments were enjoyed while the official part of the meeting commenced.
Tom Tarrant concluded his tenure as President by thanking all committees that have worked with him. Rod Coling giving his financial report. Tom especially thanked Neil Muller and Rod Coling for their professional approach to their positions. Chui Goh received special mention for his work over the past nine years. Several members spoke from the floor commending Tom on his efforts.
The AGM was held with all positions being filled unopposed. New members John Hall, Ron Hottes and Alan Teather were especially welcomed.
Following a short recitation on Tom's sixteen years on the committee including seven as president, Dave Cockroft presented Tom with a framed certificate for his Life Membership.
The Parmaker Raffle was drawn (see article for a more informative report), photographs of the day's winners were taken and members departed knowing that another successful Championship/AGM day had been concluded.
Tom Tarrant
While Tom's awarding of an ESVGA Life Membership is still fresh in our minds, a lady who knows Tom very well has provided a couple of little anecdotes on him.
Impressive
Tom has been (and still is) a good golfer. He has scored three holes-in-one all of which were achieved while playing in competition.
Not So Impressive
Tom loves a game of golf both competitively or socially. However, this time, he went a bit far.
After having lunch at the club, and despite the terrible turn of weather last Thursday (5th November), he insisted on playing at his beloved Box Hill Golf Course. There were only two donkeys out playing and Tom was one of them. Different from the mother-of-five at the Flemington Oaks Day race meeting , he at least had the decency not to strip-down to his old man undies !!
We are not sure what Glenys had to say about it.
Raffles
For those not at the Box Hill last Monday, both the Parmaker Raffle and the Meat Raffle drew some similarly uncanny results.
Parmaker Raffle: The lucky number drawn belonged to Stan Cox (sometimes known as Arthur) from Eastern Golf Club.
Incredible as it may seem, Stan had already won the Parmaker Raffle twice in consecutive years in 2011-2012 or was it 2012-2013? What are the chances of that happening?                Fawning embarrassment, Stan decided that he would put a stop to it and take 2nd prize.    The consequence being that Terry Drummy is now a very happy man! I have it as fact that the reason why our Parmaker Raffle winner, Terry Drummy, was not in attendance at Box Hill, was because he was in Maroondah Hospital having an appendectomy !!
Meat Raffle: For a player that joined the ESVGA on June 11th this year at Yering Meadows, it is time Paddy Leahy (Royal Park) did the right thing by all other ESVGA members!
He won the meat raffle on his first day of competition at Yering Meadows in May, repeated the dose at Waverley in August and made it a trifecta by taking home another tray at Box Hill last Monday!!  Hope that your good luck rubs-off on your playing partners at Yering Meadows, Paddy. Possibly, there will be an agenda item at the next committee meeting to determine how much we charge if we only sell you one ticket for next month's draw?!!
Barry Smith  for the ESVGA Committee
---
Photos from the Annual General Meeting of the ESVGA
No other nominations for committee were received at the AGM hence nominations received by 10/10/2015 and listed below will form the new ESVGA committee for 2016. Below are photos from our AGM.
 New President Dave Cockroft
 Life Members Jack Melki & Tom Tarrant

2015 Championship Winners. L-R Bruce Bower (Champion), Terry Waterbeek (B Grade) & Chui Goh (C Grade). Missing Bob Smyth (A Grade).
---
(Posted 10/10/2015)
Annual General Meeting of the ESVGA
The ESVGA will be holding its AGM on Monday 9th November at Box Hill Golf Club prior to presentations for the Club Championship.
Nomination for Committee received to date are:
President – Dave Cockroft
Vice President  – Barry Smith
Secretary – Neil Muller
Treasurer – Rod Coling
Ordinary Committee members
– Neil Fletcher
– John Hall
– Ron Hottes
– Ron Milsome
– Ashley Mitchell
– Tom Tarrant
– Alan Teather
If you wish to submit a nomination, forms are available from the Secretary by using the Contact Us menu.
---
---
(Posted 9/9/2015)
VVGA Teams Championship 2015 – Maffra
The Victorian Veterans Teams Championships held at Maffra on 14-15th of September 2015 went off very well with everyone having an enjoyable time. The course was in great condition with the greens being quite fast; a good shot onto the green often finished up over the back with a tricky chip to follow. Some players found the greens good to putt on while others had problems. Hospitality by the host club, Maffra, was first class and those concerned, the committee, the ladies and the ground staff are to be congratulated.
Monday the first day of the competition was very hot with a strong north wind which made playing difficult as the results indicated. The top score was only 36 points by a local who eventually was part of the winning team of East Gippsland. Our team No. 1 was a man short with David Stephen withdrawing. That left Steve Barnett and Greg Allen out of the teams' event but they did quite well both featuring in the ball run down. Team No. 2 of David Waters, Max Bracegirdle and Gil Muir did quite well with a combined score of 91 and finished high on the leader board at the end of day one. Gil Muir also got a ball in the run down.
The Tuesday turned out to be a very wet and cold day and play was delayed with many players withdrawing. However it fined up and play got under way albeit through some pretty wet and cold weather at times. Team No. 2 scored only 81 points in the second round for an overall score of 172 which was well short of the winning team of East Gippsland with 189 points. Gil Muir won another ball in the run down that round.
The photo shows the team members at the evening dinner at the Maffra Golf Club.
The next teams' championships are scheduled to be held at Belvoir Park on the Melbourne side of Big Hill just outside of Bendigo.
Gil Muir – Team Member