Recollections from Life Member Ted Baker (August 2015)
The first game and A.G.M. was at Croydon G.C. on Friday 7th December 1984. I think there were approximately 100 players.
Bob Saunders and Eric Davey were the instigators of this first game and the following A.G.M. resulted in the E.S.V.G.A. being formed. After A.G.M. Bob detailed what he and Eric envisaged and Vic Hill of VVGA gave a brief rundown of veteran golf in Victoria and Australia.
The meeting then voted on a committee to run the association and the following were elected:
Bob Saunders             President
Bob Williams              Vice President
Eric Davey                  Secretary/Treasurer
Arthur Bell, Ted Baker, John Flewellen and Phil Meers were then the committee. I think it was the usual problem finding people to form a committee.
Our original clubs to play our games once a month were Box Hill, Croydon, Churchill Park, Eastwood, Eastern, Waverley. We also played some of our competitions at Beacon Hills, Montuna, Amstel Cranbourne and RACV Healesville.
Our membership stayed steady for some years, ranging from 100-180 members but not all played every month. I think at our 1st game at Box Hill we had 140 players, quite a big field.
The committee at the time devised the logo. We did not have any others.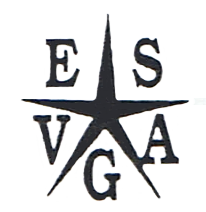 The life members were Bob Williams, Ted Baker, Jack Melki, John Flewellen, Eric Davey and Keith Schofield (Webmasters note: Keith is not a Life Member).
Trophies were originally balls. Gradually we went to gift cards or suitable trophies selected by one of the longest serving secretaries Clive Forster.
Championship rounds were always on roster, played as now.
Members for the team events were always selected from best of 3 Stableford rounds.
After each A.G.M. each member was issued with a syllabus card showing all events to be played, as is the situation today.
I think that's about all the details I can remember. If I think of any more I will give you a ring.
Hope this is a help in establishing a history of the E.S.V.G.A. I have always hoped we could let all our members know what went on in the beginning.
Ted Baker